*All our rooms have a coffee maker, cable T.V, and free wi-fi other amenities can include a microwave, and a flat screen T.V, We have a stand in shower option available. Weekly and monthly rates are available and if you stay with us for 6 days the 7th one is free! We also offer group , and corporate discounts to all within the U.S and abroad.
---
Our Creek-side units: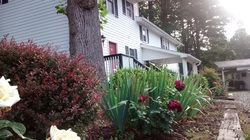 All our rooms are different in some way, either it is the color, the layout, or the scenery. Our creek-side rooms features, queen and king beds, plus a room that has 2 double beds and a small kitchenette. Come, sit in our rocking chairs, read a book, or just listen to the sounds of Johnathan Creek and admire nature. All our creek-side units feature personal balconies, microwaves, refrigerators coffee makers, and Flat Screen T.V.'s.
---
---
Our Five Star Cottage

Our cottage is the Ultimate Five Star experience. The cottage is on the banks of Johnathan Creek, little oasis of its own, with a new fire pit installed out side. Inside features Double Queen bed room, a spacious living area with Queen bed, and a full kitchen! Perfect for a romantic weekend getaway, a family of four too six, or a week long vacation. Stay in this beautiful cottage and see what Maggie Valley, NC is all about. What are you waiting for? Book Today!
---
---
Our Front side Units
None of those fit your needs or wants? We have a variety of budget friendly rooms waiting just for you! Our Front units feature King, Queen, and Double Queen rooms, all with FREE Wi-fi, cable T.V with HBO, a refrigerator, and a microwave. Come sit in one of our Rocking Chairs or swings, relax in our beautiful rooms, dine, shop, or explore the Great Smoky Mountains all from convenient central location. For area attractions, dining, and local shops go to
www.maggievalley.org
---